You are here
About Us
Cherry Blossoms School was established on 12 February 2007 and has classes from Pre-Nursery to Class 10, and includes a Transition Room too. CBS is affliiated to Nagaland Board of School Education, Government of Nagaland. The registration number of the school is PP/5348/12.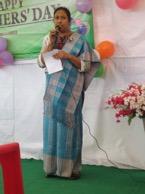 The school is run by its headmistress, Mrs. Purnima Kayina supported by 15 teaching faculty, 1 administrative and 3 non-teaching staff. The school has 110 students during the academic year 2019-20. 
Since our inception, our inclusive education programme has supported children with disabilities. In an Inclusive environment, we help children with disabilities access primary and secondary schools that meet their needs. We also provide specialised physiotherapy and rehabilitation, and skills training to help children get good jobs or create their own businesses in future.
Of the 110 students, 36 students include children with disabilities such as Autism, Down's Syndrome, Amputated Limb, Slow Learner, Clubfoot, Cerebral Palsy, Hearing Impaired, Visually Impaired, and Intellectual Disability.
Cherry Blossoms School is committed to ensuring that every child completes a quality, inclusive education without discrimination or exclusion.
If a child can't learn the way we teach, maybe we should teach the way that they learn …. Ignacio Estrada.